Do you want to know the story of an early settler who was shot… by his camel?
This is just one story which will resonate as you travel around the Clare Valley, and one I can personally identify with as that settler was one of my ancestors!
I love the Clare Valley – it's quite honestly my favourite (wine drinking) region in Australia – so here is my guide on what to do in Clare Valley.
John Ainsworth Horrocks: Deceased (Shot By Camel)
"Man shot by camel" – it may sound crazy but it's true! 🐪
John Ainsworth Horrocks was an early pastoralist and explorer who made Clare Valley his home. You'll find the name Horrocks all over the Clare Valley region and beyond, such as Horrocks Highway, Horrocks Pass, and the fantastic Mount Horrocks Winery in Auburn.
John Horrocks was wounded on 1st September 1846 at Lake Dutton when his camel accidentally triggered his shotgun which fired into his jaw, later dying of his wounds on 23rd September at Penwortham.
Obviously a tragic event, without any malicious intent by the camel, but I'm sure it would've been entered for the Darwin Awards if they existed back then.
You will find John Horrocks Cottage just south of Clare on the Horrocks Highway. It's worth a visit, but if you're like me you're probably more interested in what to do in Clare Valley booze wise.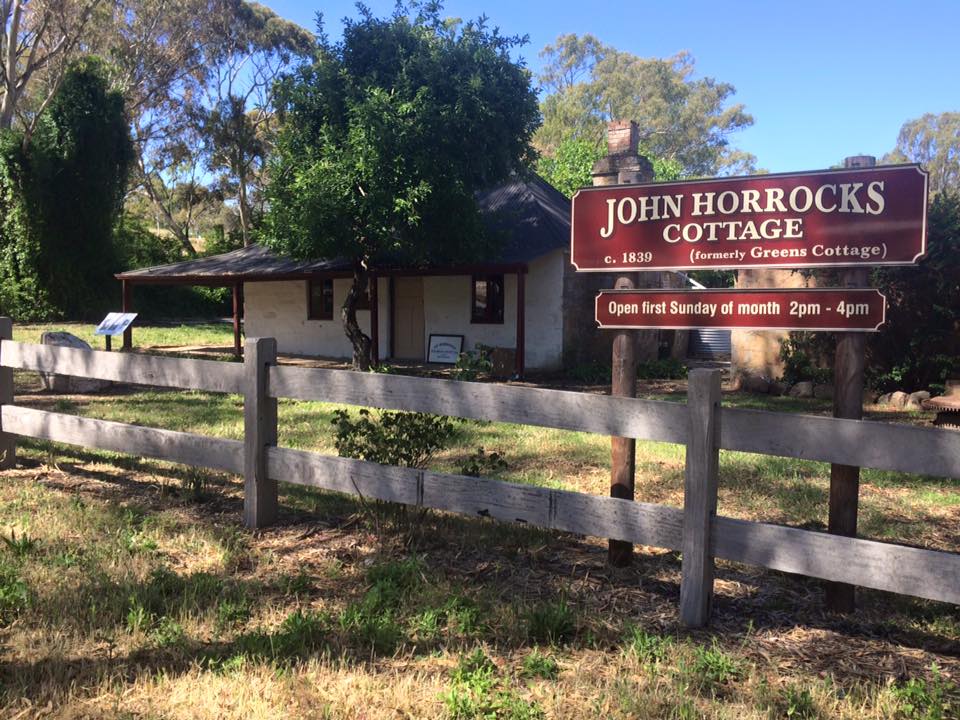 So let's take a look at what to do in Clare Valley on a 3 day trip (and I highly recommend you lock in at least 3 days!).
Clare Valley: Summertime Hot Tips!
If you want a full 3 day itinerary for your trip to the Clare Valley then keep scrolling, but if you want some excellent tips for your summertime trip then keep reading.
The top 10 things to do in Clare Valley in the summertime:
Visit the Clare Valley Wine Food & Tourism Centre for a cool glass of Clare Valley Riesling and friendly information on things to do.
Take the kids to the Twilight Trains alongside Lake Inchiquin in Clare (starting 6pm November to March).
Stay cool in a dugout- explore the heritage Burra Dugouts.
Take a dip in the Valley's outside pool – keep an eye out for special family days for the kids.
Sit under a tree with a glass of wine in the gardens at Shut the Gate Wines & Cellar Door at Watervale.
Enjoy a tapas style lunch in a contemporary atmosphere at Mr Micks Cellar Door & Kitchen.
Jump in the car and take the scenic road from Sevenhill to Mintaro- dine in at Reillys Cellar Door & Restaurant for lunch.
Sit on the large veranda with a cool glass of Riesling and watch the cars drive by at Rising Sun Hotel, Auburn.
Be cultured in theatre with Shakespeare in the Vines at Sevenhill Cellars in February.
Book dinner in the cellar at the Sevenhill Hotel – a truly intimate experience.
Enjoy!!
What to do in Clare Valley in Three Days
I highly recommend spending as much time as you can in Clare Valley – it's well worth the stay. Also, the more time you're there, the more time you'll have to enjoy the wine (and of course the scenery)!
Let's take a look at what to do in Clare Valley if you have three days. This itinerary will take you to Sevenhill, Watervale, Mintaro, and Burra.
Day One
Sevenhill – Market & Tour
The hamlet of Sevenhill has a fantastic country market on the last Saturday of every month, with stallholders and patrons for the Sevenhill Producers Market.
Sevenhill Cellars is rather iconic as it's the home of the first ever winery in the Clare Valley region! I highly recommend the tour of the stately St Aloysius' Church and surrounding college buildings.
A lazy lunch
You enjoy a nice lunch, don't you?
Yes, I thought so…
What better way to enjoy the culinary delights of Clare Valley than a lazy lunch?
Skillogalee Winery & Restaurant is a very good choice, where you can relax and enjoy their award-winning wines on the veranda under an olive tree, taking in spectacular views.
Other good options are Penna Lane Wines, Stone Bridge Wines, or the Eldredge Vineyards. The Sevenhill Hotel is another good choice, which will suit you well if you'd like to hang around in Sevenhill a little while longer.
There's some top notch cellar doors in the area to explore after lunch. I highly recommend Mitchell's Wines, Kilikanoon Wines, or Penna Lane Wines (where you may already be enjoying lunch!).
Sugar fix?
If your sweet-tooth is calling, head to either the Clare Rise Bakery or Main Street Bakehouse in Clare to sample your way through a salivating selection of treats on hand.
Create your own supper
After a day of consuming, you might like a light dinner in your own style?
Shut the Gate Wines & Cellar Door at Watervale is home to a beautiful wine bar and provedore. Fill your basket with cheese, pasta, meats or olives and create your own super to take back to your hotel or AirBnB.
Day Two
What a nice day for a walk!
Feeling guilty about all the food, cake, and wine from yesterday?
What better way to start your second day in Clare Valley with a walk through the countryside?
The Riesling Trail is very popular for good reason. It's 32km in length if you fancy doing the whole walk, but if that's not what you're going to Clare Valley for then it's perfectly suitable for a casual stroll with plenty of shade, wonderful views, and awe-inspiring scenery.
More information: The Riesling Trail on Walking SA
There's some wineries on the way too…
The English Village of Mintaro & Martindale Hall
You'll need to jump in the car for this, so keep that in mind if you were planning on drinking wine on your morning walk…
Not far east of Sevenhill (or south-east of Clare) is the historic town (cough, hamlet) of Mintaro. The town has gathered plenty of history since being established in 1849, and don't be deterred by the most famous landmark being the local slate quarry.
Pay a visit to Martindale Hall (National Trust)), and if you haven't done enough walking already I highly recommend a stroll around the gardens. The Hall itself has a grand Georgian exterior, made even more prominent by it's elevated perch. The interior is fit for a King, with extraordinary Italian features.
If you're a serious film buff you may even recognise Martindale Hall from the 1975 film Picnic from Hanging Rock!
Don't worry, I've never heard of that film either… or any films from the mid-1970s for that matter.
More information: Martindale Hall, National Trust
Lunch at Reilly's
Hang around in Mintaro for a little while longer, stopping for some lunch at Reilly's Cellar Door & Restaurant right in the centre of Mintaro. It's a great place to visit, with fresh local foods and a country atmosphere. All veg comes from their own home grown veggie patch, so it's totally organic!  
Get lost!
Sorry, I don't mean to be rude, I mean have a wonder around the Mintaro Maze!
This living maze is made from over 800 conifer trees, sprinkled with many twists and turns and hidden fountains. It's an absolute delight, and lots of fun if you've been sampling the fantastic wines from Reilly's.
If you have kids in tow then the maze is a must visit, but it's great for anyone.
Dinner in Clare
Let's get back to Clare, the centre of our 3 day tour, to experience one of the many fine dining venues the town has to offer.
I'll leave this up to your own personal preference, but any of the following three I can personally recommend:
Conners Restaurant at Clare Country Club
Top of the Hill Restaurant at the Clare Valley Motel
Or, if you're staying nearer Auburn, then I highly recommend Terroir Auburn in an 1860s house!
Just let me know where you go and how you got on in the comments below!
Day Three
If this will be your last day in Clare Valley I'm sure by now you've been thinking of staying longer. I wouldn't blame you, as I remember my third day in Clare Valley and how relaxed I felt.
If this will be your last day, the following itinerary will give you a day to remember! I'd like to take you to Burra.
Historic Burra
The town of Burra is an historic mining community that has truly been preserved for future generations. The buildings date back to when Burra was still new, so you can really feel like you've travelled back in time.
Burra is easy to explore by foot with the self-guided tour from the Visitor Information Centre. It's 11km total but don't feel pressured to do the whole tour. That said, the tour will unlock 50 special sites well worth seeing! I'm not going to tell you what they are!
Oh, and if you're into antique shops, Burra is the place to be!
The Burra Monster Mine
Burra boomed in the mid-1800s when every man and his dog flocked to the region to try their luck for copper ore. This mining boom resulted in what you can still see today – the Burra Monster Mine!
These really were golden days, and visiting the mine gives you a real sense of what it would've been like back then in 1845. Can you imagine?
The Best Grub in Burra
I'll say grub as my recommendation for lunch pays homage to true Aussie food. But trust me, this is a great recommendation – Jimbucks Restaurant opposite St Mary's Anglican Church of Australia.
Jimbucks is one of those places you would happily visit again and again. The food and service is simply excellent.
More time in Burra?
If you feel you have time, and art is your thing, then the Burra Regional Art Gallery is worth a visit.
There's plenty more to see and do around the town, such as the local Blacksmiths, Burra Dugouts, and even the General Store is worth a stop.
Burra is my favourite place in the Clare Valley region, and I hope you find it is for you too!
More information: Burra & Goyder Visitor Centre
Fun facts about Clare Valley
If you're taking your future spouse on a romantic getaway to Clare Valley then here are some fun facts to impress them with on the drive up from Adelaide!
Over 27% of South Australia's high quality grain is produced in the Mid North region.
While the Clare Valley accounts for only 1.3 per cent of the Australian wine production, the region's wine is internationally acclaimed, with listings in five star restaurants and aircrafts all around the world.
The Clare Valley Winemakers were the first in Australia to invent the screw cap closure for Riesling bottles. 
The Riesling Trail was originally part of the railway line, which ran between Riverton to Spalding, but was abandoned after the 1983 Ash Wednesday bushfires. 
The Burra Monster Mine was the world's largest mine in 1845, where migrants flocked in their thousands for copper. 
The Clare Valley is home to the only remaining Jesuit-owned winery in Australia, Sevenhill Cellars, which to this day, produces sacramental wine for religious ceremony. 
The district of Bylth was named in 1860 after Sir Arthur Blyth, who was one of the earliest statesmen in South Australia and was Premier on three occasions.
The historical village of Mintaro was once a major hub for bullock drivers and muleteers who carted their copper ore to Port Wakefield on the Gulf of St. Vincent.
Waterloo named to mark the 50th anniversary of the famous battle.
The Riverton Railway Station was the site of Australia's first 'political assassination', though in fact, a crazed passenger began shooting wildly and a visiting member of parliament from Broken Hill was shot while trying to overpower him.
In the days of 'early closing' liquor laws, those who had travelled at least 60 miles in a day were recognised as 'bona fide' travellers and could demand a drink from the publican. Being sixty miles north of Adelaide, the Rhynie pub was long known as 'bona fide'. And, it still is!
Auburn was also the birthplace of the poet, CJ Dennis.
Watervale's place in the history of the Australian wine industry is significant. The first five acres of grapes for commercial use were planted by Francis Treloar in 1853.
---
I truly hope you've enjoyed this guide on what to do in Clare Valley. It really is a special place, and I hope the information above helps you get the most from your stay!
Please feel free to leave any feedback or comments below.
Cheers!