Did you know there are over 2573 wineries in Australia (850+ in Victoria), producing around 45,000 different wines every year?
That's a lot of wine. So how do you choose?
Even if you're a die-hard wine lover like myself, we have no hope of sampling all these wines in a single lifetime.
Instead, this Guide to Victorian Wine will give you a great start in understanding the wines and wine regions of Victoria.
A Map of Wine Regions in Victoria, Sub-Regions, & Wineries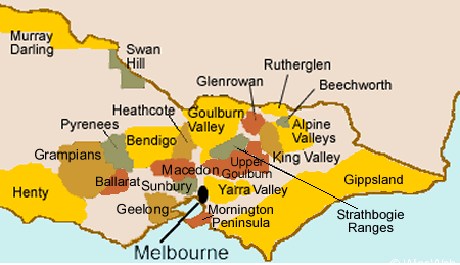 About Victorian Wine Regions
For the new area and name classification of Australian wines, there are 6 distinct Zones, 22 Regions and a number of Sub-Regions within Victoria.
At last count, the 850 Victorian wineries comprises of over 2900 vineyards, and 650+ cellar doors. That means Victoria has more wine producers than any other Australian wine-producing state, but actually ranks third overall in wine production as there isn't a mass bulk wine-producing area like Riverland (SA) and Riverina (NSW).
According to the Wikipedia page on Victorian wine, "Viticulture has existed in Victoria since the 19th century and experienced a high point in the 1890s when the region produced more than half of all wine produced in Australia."
"The phylloxera epidemic that soon followed took a hard toll on the Victoria wine industry which did not fully recover till the 1950s."
In Victoria today, winemaking is spread across the state, boosting premier wine regions such as Heathcote, Rutherglen and the Yarra Valley.
Australia is best known for the single varietal wines of Shiraz and Chadonnay, and Victoria is no exception. In addition to this, Victoria is also known for the more obscure varieties of Viognier, Pinot Noir, Graciano, and Tannat.
The style of wines in Victoria is diverse, from full-body red wine to fortified wines such as Liqueur Muscat.
Related: What are the best Champagnes in Australia (grouped by price range)?
Melbourne & Port Phillip Wine Regions
There are five very diverse wine regions around Melbourne, all within a short drive from the city's CBD. If you're visiting Melbourne these regions are perfect for an indulgent weekend break.
Chardonnay, shiraz and pinot noir dominate in these five regions, but their unique climatic and geographical features result in wines as distinct as the landscapes that produce them.
Yarra Valley
Sip, sniff, and savour fine wines within the hallowed walls of historic Victorian viticultural institutions, or discover secret winery gems.
From architectural statements to rustic tin sheds hidden among the vines, the Yarra Valley has a wonderful range of cellar doors, all reflecting the diversity of styles and approaches in this beautiful, cool-climate region, a stone's throw from Melbourne.
Stunning scenery with wines to match
Snap up new vintage cool-climate masterpieces from over 70 wineries around Healesville and the picturesque village of Marysville further north, to those tucked into the beautiful hill country around Nillumbik, Hurstbridge and Kangaroo Ground.
Visit the cellar doors of architecturally imposing wineries to rustic tin sheds hidden among the vines, from stalwarts that continue to innovate like DeBortoli, Fergusson and Yering Station to newer favourites like Punt Road and Mandala Wines.
The wine region that started it all!
Sample the grapes and marvel at the harmony of diverse soils, temperate weather, and the dedication of generations of vignerons in the pioneering region that kick-started Victoria's wine industry in 1838.
Match the superb estate wines with a meal at a winery restaurant in the region that boasts multiple hatted chefs who create masterpieces from the lush and bountiful local produce.
Mornington Peninsula
Sample your way around Mornington Peninsula's boutique cellar doors for the region's renowned pinot noir, plus chardonnay, shiraz, pinot gris and pinot grigio.
Pristine beaches and gloriously green hinterland – this much-loved holiday favourite is just an hour's drive from Melbourne, and home to more than 50 boutique cellar doors and the region's renowned pinot noir.
Passion for pinot
Hear the stories of passionate peninsula vintners, who grow their own fruit and produce their own wines. They'll tell you all about the famed regional pinot noir and the cool-climate chardonnay, and let you in on the secrets of the newer regional varietals, including pinot grigio, pinot gris and shiraz.
Regions within a region
Taste different styles on a cruise around this compact and diverse region. Climate, topography, land and soil structure create distinct micro-climates around the hinterland villages of Red Hill, Main Ridge and Moorooduc, and Merricks, Balnarring and Dromana on the coast.
Chat with other wine buffs on your tasting journey, or relax and take advantage of award-winning winery restaurants, casual eateries, accommodation and broad sundecks.
Geelong
Explore the Geelong wine region's diverse sub-regions from surf coast to volcanic plains making its food, wine and landscape resist any 'cool climate' label. Taste varieties with a subtle European style such as chardonnay and shiraz.
Geelong was the largest grape-growing region in Victoria in the 1800s, and it has undergone a renaissance in the last couple of decades as winemakers rediscover rich soils and a climate that is halfway between France's Bordeaux and Burgundy.
Sunbury
Explore vineyards that date back to the 1850s and still produce long-lasting red wines in Sunbury and surrounding areas in the region.
The closest winemaking area to Melbourne, Sunbury is also one of Victoria's oldest. Its cool, dry climate combined with diverse soil types produces elegant wines, and historic wineries make perfect locations for tasting the area's celebrated shiraz.
Meet the makers
Call in to cellar doors in Sunbury and surrounds, and chances are you'll meet a winemaker and learn about the exceptional regional terroir, how wines are made, and perhaps a few local yarns for good measure.
History among the vines
Taste shiraz and chardonnay in the 1860s bluestone cellar door at Craiglee in Sunbury and cross the road for more history at Goona Warra. You'll find sumptuous wines and bites to eat among the orchards in Bacchus Marsh, overlooking dams in Glenlyon and in the paddocks around Gisborne.
Macedon Ranges
Tour some of Australia's finest boutique wineries in the Macedon Ranges wine region for an authentic, intimate tasting journey less than an hour from Melbourne.
Take the road less travelled
Leave the city behind for the lush elevated plains, volcanic soils, rocky outcrops and misty valleys of the Macedon Ranges wine region. Discover hidden vineyards, secret gardens and passionate characters growing grapes to fulfil an obsession.
Wines of limited edition
Visit rustic cellar doors that are often simply extensions to the shed, complete with wooden floors, corrugated iron and well worn timbers. Once there, savour wines of exceptional quality made in small quantities from the finest cool-climate grapes.
A glass of Macedon
The region produces some of Australia's best sparkling wine, and the ranges' high altitude and cool climate provide perfect conditions for elegant chardonnay, pinot noir and shiraz. Most of the local wineries boast their own label of 'Macedon', the term commonly used for their sparkling wines, but there is also award-winning riesling and cabernet sauvignon, all produced in small-scale, family-owned wineries.
Don't miss a visit to Hanging Rock and Granite Hills. Taste their sparkling wines and look out for the chardonnay, shiraz and pinot noir, too.
Central Victoria Wine Regions
Perhaps the most diverse region in the state, central Victoria encompasses chilly mountain ranges, humid valley plains, fertile river flats, thick forests and dry, rolling hills, producing wines that range from rich, ripe reds to full-flavoured whites.
There are five distinct regions in central Victoria, each with markedly different scenery, altitudes and climates, resulting in different winemaking strengths.
The Goulburn Valley stretches from Seymour in the south to the Murray River in the north, encompassing lush, fertile farmland and the humid, water-abundant sub-region of Nagambie Lakes, famed for its Rhône varietals. To the west is shiraz country, in the sinewy hills around the historic gold-mining town of Bendigo, and among the box ironbark forests around Heathcote.
To the east, the magnificently wild Strathbogie Ranges and high country of Upper Goulburn produce beautiful, cool climate white and sparkling wines of great balance and finesse.
The diversity of central Victoria's wines gives some hint of the amazing abundance of food to be discovered in the area. Lamb, beef, fruit, cheese, nuts and vegetables all thrive here, giving local chefs an incredible palette of flavour with which to create delicious, regional dishes.
Bendigo
Bendigo's history is entwined with the 19th century gold rush, reflected in its glorious architecture and range of cultural attractions. While this is red wine country – home to now famous deep red shiraz and cabernet sauvignon – white wine lovers should seek out chardonnay and riesling.
Often referred to as the winemaker's region, in Bendigo you are likely to meet vignerons with their sleeves rolled up, tending to their vines or working in the wineries.
Hills and valleys
Find wineries hidden in the picturesque hills and valleys around the region, many still operated by the families who founded them. Meet the winemakers, taste varieties, dine with a view of the vines, and make the most of the many cellar doors, which offer a casual, friendly atmosphere.
On the grape vine
The first grape vines were planted here in 1856, just after the massive gold rushes. The climate of central Victoria, with its long hours of summer sunshine, coupled with deep soils, make it ideal for growing the robust, fully flavoured shiraz and cabernet sauvignon for which the region is famous. The area also produces chardonnay, riesling, sauvignon blanc and sangiovese, all of which bear distinct regional characters.
Heathcote
Nestled in a tranquil bush setting at the foot of the McIvor and McHarg ranges, erstwhile gold-rush town Heathcote is renowned for its world-class shiraz, which can be enjoyed alongside wonderful regional produce.
Local textures
Red soil and warm summers tempered by cool, southerly winds help produce robust wines of power and weight with great texture. Shiraz is Heathcote's flagship varietal, but it also produces superb cabernet sauvignon, and has had success with viognier and riesling.
Estate living
Taste the wines and meet the winemakers at cellar doors all year round. Visit during the month of October when the local winemakers gather to showcase their iconic wines at the Heathcote Wine and Food Festival. Alternatively, time your trip to coincide with the June Queen's Birthday long weekend for Heathcote on Show.
Goulburn Valley
Take a trip to the sprawling Goulburn Valley wine region, an area stretching from Seymour in central Victoria right up to Echuca on the Murray River.
The perfect combination
The mild weather, abundant water and sandy soils have enabled the valley and the sub-region of Nagambie Lakes to consistently produce award-winning wines since the 1860s. To try some of the region's best new labels, visit wineries in the emerging New South Wales wine region of Perricoota.
Local heroes
Take a tour of the Tahbilk Winery and Vineyard, one of the oldest in the country and a must visit destination for Australian wine lovers. Established in 1860, Tahbilk pioneered the area's affinity with Rhône varietals such as marsanne, shiraz and rousanne. Be sure to taste some of the region's famous buttery rich chardonnay.
As well as vineyards, prolific orchards grow apples, pears, peaches and other stone fruits, so watch out for the farm gate sales for farm fresh produce.
Strathbogie Ranges
Get off the beaten track to discover hidden cellar doors in the hills and their sparkling and delicate table wines.
Join tastings at vineyards and cellar doors dotted throughout the region, or linger in Euroa and sample the local drops on wine lists at the superb Euroa Butter Factory or the eateries along Binney Street.
Upper Goulburn
Discover the influence of altitude on this cool region's vineyards, with wineries sitting beside snowfields to produce rich, weighty chardonnay, crisp Riesling and superb sparkling wine.
Stretching from Mount Buller in the east to Broadford in the west and encompassing the villages of Mansfield, Yea and Alexandra, the region has about 30 vineyards with welcoming cellar doors waiting for your visit.
Western Victoria Wine Regions
Big skies, undulating foothills and rugged ridges: Victoria's west is built equally for touring and winemaking. Discover wines as unique and inspired as the landscape that created them.
Begin your journey just one hour from Melbourne among the grand, gold rush-era buildings of Ballarat – a vibrant cultural and culinary centre. Travelling north-west, the route unfolds under big skies through the cool, open plains and mountain backdrops of the Pyrenees mountain range, where vineyards are tucked within the rolling foothills.
Further west, the route trails through sweeping horizons, surrounded by the dense bush and rugged ridges of the Grampians. This ageless terrain produces intense, finely structured wines and is fast gaining a reputation as a gourmet destination.
Head south-west to the Henty region with its spectacular coastal views and superb winemaking credentials.
Wide-ranging soil types, microclimates and altitudes make the shiraz, cabernet sauvignon, pinot noir, riesling and chardonnay grown here as varied as the incredible range of food for which Western Victoria is renowned. Be sure to sample the local lamb and cheese.
Pyrenees
WESTERN VICTORIA REGION
Wine regions in western Victoria
Big skies, undulating foothills and rugged ridges: Victoria's west is built equally for touring and winemaking. Discover wines as unique and inspired as the landscape that created them.
Begin your journey just one hour from Melbourne among the grand, gold rush-era buildings of Ballarat – a vibrant cultural and culinary centre. Travelling north-west, the route unfolds under big skies through the cool, open plains and mountain backdrops of the Pyrenees mountain range, where vineyards are tucked within the rolling foothills.
Further west, the route trails through sweeping horizons, surrounded by the dense bush and rugged ridges of the Grampians. This ageless terrain produces intense, finely structured wines and is fast gaining a reputation as a gourmet destination.
Head south-west to the Henty region with its spectacular coastal views and superb winemaking credentials.
Wide-ranging soil types, microclimates and altitudes make the shiraz, cabernet sauvignon, pinot noir, riesling and chardonnay grown here as varied as the incredible range of food for which Western Victoria is renowned. Be sure to sample the local lamb and cheese.
Pyrenees wine region
Throw a boule on a piste outside a vineyard in ruggedly beautiful surrounds deep in the Pyrenees wine region – Victoria, that is, not that other famous wine area between France and Spain.
Victoria's French connection
It's no surprise that these two regions share a name, with sweeping vistas, a passion for petanque and diverse wine growing areas with distinct microclimates producing world-beating wines. The French connection in Victoria's Pyrenees goes back to the 1960s when French brandy producer Remy Martin established his eponymous chateau near Avoca.
Spicy reds and smart sparklings
Victoria's Pyrenees comprise the southern extension of the Great Dividing Range, and its foothills and ranges create a remarkable diversity of microclimates that provide a wealth of variety for winemakers.
Visit the cellar doors of the 44 vineyards in the region and taste the savoury spicy reds that the area is known for, especially the premium cabernet sauvignon. Chardonnay and sauvignon blanc also respond beautifully to the soils and climate here, with some standout sparkling wines produced.
Grampians
Swipe your finger along the dusty barrels in the hand-dug 1860s cellars at Best's Great Western and get a feel for the rich history of Victoria's Grampians wine region, home to some of the world's oldest vines.
Natural beauty and favourable elements
Tour the visually spectacular southern extremity of the Great Dividing Range and experience the elements that ensure the continued distinguished wine production of this region, stretching back to the 1860s.
Make note of the old soil, good terroir, the hot days and cold nights with minimal rainfall, and the old vines that all combine to make the well-known table wines. Regional standouts are shiraz and riesling, with chardonnay, pinot noir, pinot meuniere, merlot, and cabernet sauvignon adding to the richness and diversity. Look out for the exceptional sparkling wines on offer too.
History underground and above
Get more history on a tour of the historic drives that stretch for kilometres beneath Seppelt Great Western and where sparkling wines mature. Above ground you can sample the iconic vineyard's renowned wines and look out at the gnarled old vines with illustrious histories.
A crop of young winemakers are updating the history books and ensuring the region remains on the map. Try wines from The Story and Jamsheed, as well as the result of new blood at Best's, Seppelt and Crawford River.
Henty
Journey to the far south-west corner of Victoria where local produce such as lamb, beef, seafood, cheese and more combine magically with wines from what is still a largely undiscovered region, named after the first family to settle in Victoria in the early 1800s.
Covering a large area of Victoria, the Henty wine region extends from the Hopkins River across to the South Australian border and is home to about a dozen wineries and many more vineyards.
It is one of the coolest of Australia's mainland wine growing regions and with the addition of plenty of sunshine, the Henty wine region provides conditions similar to Europe's Rhine Valley and Burgundy. Just like these regions, Henty is beginning to impress with varieties such as riesling, pinot noir and chardonnay.
Ballarat
The gold-rush city of Ballarat is at the heart of this exciting and flourishing food and wine region. The historic streetscapes serve as a spectacular backdrop for a fascinating local epicurean experience.
Spice up your life
The mist-shrouded vineyards around Ballarat are famous for subtly-fragrant pinot noir, chardonnay and elegant sparkling wines. Winemakers are also having success with riesling, and even shiraz. Low temperatures and yields, combined with small boutique wineries, are giving Ballarat wines a premium reputation.
By the glass
Make sure you visit the region during the annual Ballarat by the Glass wine weekend, starting on the Melbourne Cup Weekend and running for the month of November. The festival offers the chance to sample hard-to-find labels.
North-West Victoria Wine Regions
Murray Darling & Swan Hill
The warm climate of the Murray Darling and Swan Hill wine regions not only make trips pleasant all year round, it has helped cultivate some of Australia's best wines. Visit wineries and sample local varietals taking in the eclectic natural landscapes of Red Gum forest, desert, river, outback and lagoons.
Make the pilgrimage to Mildura and Swan Hill and be treated to Australian favourites like smooth shiraz and flavoursome chardonnay. Local winemakers also excel at growing varieties like viognier, nebbiolo, vermentino, durif, barbera and sangiovese.
Why not try more than just the wine? Best known for its citrus and dried fruit, the area also harvests nuts, freshwater fish, olives, grains and luxury produce from saltbush lamb to pink salt.
Keep an eye on the calendar for food and wine festivals throughout the year. The Mildura Jazz Food and Wine Festival in November and Swan Hill Region Food and Wine Festival in March are great ways to pack all your foodie adventures into one event, while the Merbein Great Australian Vanilla Slice Triumph in August celebrates the humble Aussie treat.
Murray Darling's heritage cellars
Drop into established vineyards in the Mildura area, which is celebrated for its award-winning wines and the spectrum of varieties it produces.
Embark on a self-guided tasting tour of the region's cellar doors – from the family-run Trentham Estate and picturesque Lindeman's Karadoc Winery to the historic Chateau Mildura. Though the region's first vines were planted all the way back in 1888 there are emerging varietals worth checking out, like the Robinvale Wines organic and bio-dynamic range.
Visit Mildura in November for the Australian Alternative Varieties Wine Show and experience something quite different. This unique show highlights emerging or alternative wines, which are becoming popular worldwide.
Swan Hill's regional bounty
Wander through Swan Hill's country landscape and take advantage of the growing number of vineyards and cellar doors popping up across the region. Visit in October and enjoy four days of the Australian Inland Wine Show – a great opportunity to try a huge selection of wines from Australia's interior.
North-East Victoria Wine Regions
From the fertile plains around the Murray River to the steep, timbered foothills of the Victorian Alps, north-east Victoria offers stunning scenery and celebrated gourmet experiences.
The north-east's five wine regions – Rutherglen, Beechworth, Alpine Valleys, King Valley and Glenrowan – all reflect their distinct climatic, topographic and historic differences in the quality and complexity of wines and the superb, artisan-style brews they produce.
These range from luscious muscat, vibrant Italian varieties, and austere and restrained sparkling to the rich ales of its many craft breweries.
In the north lies Rutherglen, with a rich history of fortified winemaking and a great diversity of table wines.To the south is Glenrowan, ripe for rediscovery, which has been producing traditional wines of heroic proportions since the 1870s.
To the east is the pristine mountain environment of the Alpine Valleys, King Valley and Beechworth – gateways to Victoria's ski fields, which offer some of the state's most innovative winemaking, diverse vineyards and elegant wines.
Add an outstanding range of accommodation and delicious produce, and there are plenty of reasons to stay.
Rutherglen
Spend a few days in and around Rutherglen, home to over twenty wineries, ranging from household names to boutique operations. Get acquainted with the signature wines on offer from muscats, tokays and the rich reds – shiraz, durif and cabernet. Meet the fourth and fifth generation winemakers who draw on the family traditions while harnessing modern techniques to keep Rutherglen on the map.
A taste of the country
Along with the signature wines, lesser known varieties are grown here. The white Rhone varietals of marsanne, roussanne and viognier are achieving good results, while the tempranillo, sangiovese and zinfandel varietals round out the red wines.
With so much on offer, take time to meander between vineyards comparing styles and vintages, and enjoying matching the wines with the exemplary cuisine of the local vineyard restaurants and in Rutherglen village.
Ride on
Join the Pedal to Produce Cycle Trail to sample the very best wines, fruit and produce at local wineries, orchards and cafes. Alternatively, hit the Murray to Mountains Rail Trail and discover the grandeur of the mighty Murray River while stopping at cellar doors to enjoy local varietals and country hospitality along the way.
Beechworth
Take your time to explore the beautifully restored town of Beechworth and venture into the surrounding wine region, which lies at the footfills of the Victorian Alps.
These days the historic wine region's small vineyards produce excellent chardonnay, pinot noir and other cool-climate varieties, though the wine industry suffered major setbacks since the first vines were planted in 1856 and the first wine shop was opened 10 years later. By the end of the World War I all vines had gone, victim to both the economic times and phylloxera.
Continue the wine experience by sampling local drops on the wine lists at Beechworth's abundance of city-quality eateries. Compete for a reservation at Provenance, sample local varietals at the rustic Indigo Vineyard, or linger over lunch at the Green Shed Bistro and Gigi's of Beechworth.
Alpine Valleys
Experience the hot summer days and cool nights that make such distinctive wines around the four valleys created by the Ovens, Buffalo, Buckland and Kiewa rivers. Dine alfresco and spend the afternoon sampling local varietals while taking in stunning valley views.
The unique sub-alpine conditions produce wines of great elegance, with intense fruit characters and high natural acidity.
The multitude of microclimates in the Alpine Valleys have allowed 33 different grape varieties ranging from traditional chardonnay and shiraz through to less common grapes such as sauvignon vert and nebbiolo to be successfully grown on its hillsides and valleys.
King Valley
Knock on a King Valley cellar door and be greeted by generations of winemaking families passionately offering tastings of their groundbreaking Italian varietals.
Victoria's Mediterranean
Step into Little Italy in the King Valley, where dynamic Italian migrant families established wineries that continue to innovate through the generations. You'll taste increasingly well-known Italian wines, including prosecco, nebbiolo, sangiovese, pinot grigio, dolcetto, arneis and barbera.
Wine identities
Meet the King Valley's characters. Delight in rustic Italian cuisine from Katrina's cookbook matched with house drops at Pizzini Wines, or chat to Otto Dal Zotto about his family's wines over bocce at Dal Zotto Estate. Encounter the Brown brothers at the eponymous vineyard's gourmet Epicurean Centre.
Celebrating the good life
Celebrate La Dolce Vita during November at the King Valley, when wineries open their doors to celebrate the arrival of spring, and warm yourself with the region's red wines at the June Queen's Birthday weekend's Weekend Fit For A King.
Prosecco Road
Since 2000, when Otto Dal Zotto planted the first prosecco vines in the King Valley, five other local winemakers have begun producing the sparkling Italian white. Together they have created Prosecco Road, a sensational food and wine trail celebrating the best of the rustic Italian dining experience.
Glenrowan
Even before Glenrowan was thrust into the annals of folklore by its association with Australia's most famous bushranger, Ned Kelly, grapes had been planted at Baileys of Glenrowan, which today remains the largest vineyard in the region.
Try to taste the history in the old vine shiraz at Booth's Taminick Cellars, with the Booth family having owned the winery since the beginning of last century.
Celebrate the wine region's history at fun-filled events like Trails, Tastings and Tales over the Queen's Birthday weekend and October's Winemaker's Weekend.
South-East Victoria Wine Regions
Gippsland
Diverse and beautiful, Gippsland stretches from Victoria's high country in the north to Bass Strait in the south, and produces richly textured, distinctive and very special wines.
Rolling hills and rich varietals
Say goodbye to the city and in an hour reach the lush, fertile hills of West Gippsland. Tuck into the famed, farm-fresh produce of Warragul and surrounds – the perfect accompaniment to a wonderful array of local wines.
A generally cool climate with a warm, dry autumn encourages rich chardonnay and unique sauvignon blanc, riesling, pinot noir, shiraz and an emerging production of sparkling wine.
Eastern notes
About three hours from Melbourne, East Gippsland has a warmer, Mediterranean climate with low rainfall and tempering sea breezes. Its coastal plains produce chardonnay, cabernet sauvignon, fruity pinot noir and floral riesling.
A drop in the Bass Strait
South Gippsland is incredibly beautiful and a true, cool-climate region with maritime influences from the often stormy Bass Strait.
Wineries from Phillip Island to the foothills of the Strzelecki Ranges produce elegant chardonnay and pinot gris, but have found their true expression with pinot noir of superb flavour and structure.