Folk from the Orange Wine Region have a saying – "Where altitude is the difference".
With its ideal climate, soils and geology the Orange wine region is a perfect place for grape growing! If you've tasted any of the region's wines then you'll know this to be true.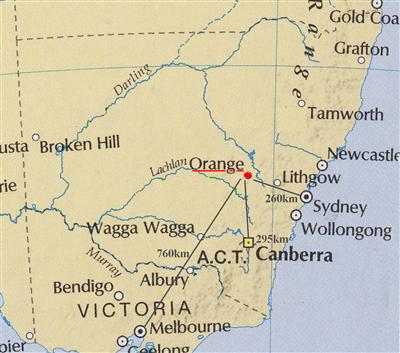 The combination of cool temperatures during season coupled with dry autumn conditions makes it an excellent location in which to cultivate vines that produce distinctive flavour profiles.
Even without the wines, the region is a beautiful place to visit, and if you're reading this then my guess is you're already thinking of going – do it!
About the Orange Wine Region
The region circles around Orange, being defined as the area 600m in the local areas of Orange, Cabonne and Blayney.
The rich, volcanic soils of Mount Canobolas are a major factor in the success for this region.
The high altitude makes it more reliable when rainfall comes, but puts an even greater dependence on weather patterns because these particular types need such specific conditions to grow properly – 60% red wines like Cabernet Sauvignon and 40%, white varieties including Chardonnay.
Types of wine from the Orange Wine Region
The variety in the region is vast with 27% Shiraz and 14 percent Cabernet Sauvignon being most widely planted.
Merlot comes next at 12%, followed by Pinot Noir (5%) which features only slightly less than Zinfandel or other newer varieties like Sangiovese also grown in the region.
The best sites for growing these wines depends on altitude, so some highland vineyards may prove more productive compared with warmer coastal locations which offer better potential barrel aging opportunities due to stronger July sunshine.
Here's a guide to all varieties of wine from the Orange Wine Region:
Arneis
Arneis an Italian white variety originating from Piedmont, Italy, is new to the Orange region and is well suited to its cool climate vineyards. It has flavours of ripe pear, stone fruits, white flowers and a hint of almonds producing a very food friendly wine.
Chardonnay
The Orange Region produces Chardonnay wines of exceptional finesse expressing flavours of peach, apricot, lemon, lime and passionfruit. Chardonnay has been one of Orange's most successful white wines and performs well at all elevations.
Sauvignon Blanc
The Orange Region is well suited to this variety where it makes very aromatic white wines with a diversity of flavours that include tropical fruits, passionfruit, gooseberry, herbs and flint.
Riesling
Orange Region Rieslings are produced in the classic white Riesling style and have a great capacity to age. They are very aromatic with the dominant aromas being floral and spicy. Younger wines have flavours of lime, lemon, passionfruit, peach and apple. Older wines develop rich toasty honeyed flavours.
Pinot Gris
Pinot Gris from Orange produces white wines with flavours of pear, honey, honeysuckle, citrus and apple. Some wines will be made in the fuller Gris style and others in the lighter Grigio style.
Viognier
In the Orange Region this white variety is used to make a white wine or sometimes co-fermented in amounts of about 5% with Shiraz to make a red wine. The flavours of Viognier include apricot, peach, musk and citrus.
Gewurztraminer
This variety is a musk flavoured selection of the old French variety Savagnin. A non-musk selection called Savagnin Blanc is also grown in the Orange Region. Gewurztraminer can produce very full bodied white wines that are highly perfumed and express flavours of pepper, spice, lychees, musk, rose water, orange blossom and honeysuckle.
Sangiovese
Sangiovese is responsible for the red wines of Chianti in Tuscany. In the Orange Region it is highly suited to the warmer lower elevations. It can be used to make more savoury wine styles or richer styles. The flavor spectrum will vary from bitter cherries, violets, tomato and herbs, to black cherry, plums and mulberries. It is a very food friendly variety.
Cabernet Sauvignon
This variety is all about elegance, structure and age-worthiness. In the Orange Region it makes red wines with a capacity to develop great complexity following bottle ageing. The body of these wines will vary from fuller to lighter depending upon the elevation, but the flavours expressed are fairly consistent and include violets, cedar wood, red berries, cherries, black currant (cassis), blackberry and plum
Merlot
The Orange Region does Merlot well, producing fruit with that extra bit of 'lift'. The flavours in these red wines include red berries, dried herbs, black currant, mulberry, plum, game and anise.
Shiraz
From a wine perspective this has been one of Orange's best performing red varieties and works well at both lower and higher elevations. The flavours expressed include cherry, red berries, spices, plums, liquorice and pepper.
Pinot Noir
This variety is well suited to the higher elevations of the Orange Region. The red wines produced are typically lighter in colour and body then those of Shiraz or Cabernet Sauvignon but can be equally as intense in terms of flavor and texture. The flavours of Pinot Noir include raspberry, plum, cherry, violets and strawberries.
Tempranillo
This Spanish red variety has been very successful in the cool, elevated, continental climates of Northern Spain and hence is a natural choice for the Orange Region. It makes a somewhat lighter bodied, soft and savoury red wine which expresses fruitiness in youth and more mellow complexity with bottle age. The flavor spectrum includes strawberries, raspberries, cherries, blackberries, mulberries and plums.
Grenache
This variety is a more recent introduction to the Orange Region, it is capable of making richer, softer medium bodied red wines at lower elevations and excellent rosé wines at mid level elevations. The flavours of Grenache include strawberries, raspberries, cherries, blackberry, pepper and spice.
Rosé Wines
Orange can when it chooses emulate the Cabernet Franc rosés of the Loire and the Grenache rosés of the Rhone and Provençe, alternatively it can make its own rosé styles from Pinot Noir, Shiraz and other red varieties.
Sparkling Wines
Chardonnay and Pinot Noir grapes grown at the higher elevations of the Orange Region can produce outstanding base wine from which sparkling wine styles can be produced. These wines have crisp, vibrant and aromatic flavours which develop greater complexity with bottle age. Orange is extremely well suited to the production of sparkling wines.
Wineries in Orange Wine Region
Here are a list of cellar doors in the Orange Wine Region
Angullong
38 Victoria Street, Millthorpe NSW 2798, AU
Bantry Grove Wines
25 Victoria Street, Millthorpe NSW 2798, AU
Brangayne of Orange
837 Pinnacle Road, Canobolas NSW 2800, AU
Canobolas Smith Wines
Cargo Road, Lidster NSW 2800, AU
Cargo Road Winery
1064 Cargo Road, Lidster NSW 2800, AU
Charles Sturt University Winery
Leeds Parade, Orange NSW 2800, AU
Colmar Estate
790 Pinnacle Road, Orange NSW 2800, AU
Cooks Lot
C/- Ferment – 87 Hill Street, Orange NSW 2800, AU
De Salis Wines
125 Mt Lofty Road, Nashdale NSW 2800, AU
Dindima Wines
859 Cargo Road, Nashdale NSW 2800, AU
Faisan Estate Wines
150 Lemmons Road, Borenore NSW 2800, AU
Gordon Hills Estate
1119 Cargo Road, Lidster NSW 2800, AU
Habitat Vineyard
329 Old Canobolas Road, Nashdale NSW 2800, AU
Hedberg Hill Wines
701 The Escort Way, Orange NSW 2800, AU
Heifer Station
1034 The Escort Way, Borenore NSW 2800, AU
Highland Heritage Estate
4968 Mitchell Highway, Orange NSW 2800, AU
Mayfield Vineyard
954 Icely Road, Orange NSW 2800, AU
Moody's Wines
69 Stagecoach Road, Emu Swamp NSW 2800, AU
Mortimers of Orange Wines
780 Burrendong Way, Orange NSW 2800, AU
Orange Mountain Wines
10 Radnedge Lane, Orange NSW 2800, AU
Panther's Patch
1827 The Escort Way, Borenore NSW 2800, AU
Patina
109 Summerhill Lane, Lucknow NSW 2800, AU
Philip Shaw Wines
100 Shiralee Road, Orange NSW 2800, AU
Printhie Wines
489 Yuranigh Road, Molong NSW 2866, AU
Ross Hill Wines
134 Wallace Lane, Orange NSW 2800, AU
Rowlee Wines
19 Lake Canobolas Road, Orange NSW 2800, AU
Sassy Wines
569 Emu Swamp Road, Orange NSW 2800, AU
Small Acres Cyder
12 Akhurst Road, Borenore NSW 2800, AU
Stockmans Ridge Wines
21 Boree Lane, Lidster NSW 2800, AU